Move over, Marriott. Hotels were once the default lodging option for travelers, but in recent years, demand has boomed for vacation rentals in private homes. And travelers aren't the only ones who stand to benefit from this trend; homeowners who rent out their house can turn a handsome profit, especially during peak times like spring break.
Just how much can homeowners pocket in popular areas? To find out, NerdWallet asked HomeAway, one of the largest facilitators of private for-rent properties, to provide data for its most in-demand U.S. spring break destinations, along with nightly rates during that time and year-round. A NerdWallet analysis found that in some spring break hot spots, homeowners can pay off between three and four months of their mortgage by simply renting out their home for two weeks in March — a common spring break period and one when many homeowners are quite possibly traveling themselves.
Key takeaways
In Breckenridge, Colorado, homeowners renting their property for two weeks in March stand to make the most money among the top destinations — a whopping $7,630. With this amount, the average Breckenridge homeowner can pay 3.76 months of mortgage payments, property taxes and utilities.
In many other top spring break destinations, homeowners can pay more than three months of homeownership costs from just two weeks of renting in March. After Breckenridge, the top spot is Miami, with an average of 3.49 months of these expenses paid off. Next is Las Vegas, with 3.28 months paid off, followed by Lake Tahoe, California, with three months paid off. Homeowners in Fort Lauderdale, Florida, can pay off 2.91 months.
Rental rates increase from the standard rate in Breckenridge the most during spring break; the nightly rate leaps by 153%. Las Vegas vacation rentals enjoy the second-greatest surge, up 92% during spring break. Miami took third place, with a spring break rate increase of 81%.
Growth of vacation rentals
While some cities are passing ordinances to prohibit or restrict short-term rentals, more vacation rentals are being booked than ever. According to a 2015 TripAdvisor survey of 1,800 Americans, nearly 60% planned to stay in a vacation rental last year, up 7% from the previous year.

Vacation rental website HomeAway launched in 2005 and has since acquired the more established competitor site VRBO.com, as well as some other rivals. Vacation rentals gained even more attention with the launch of competitor Airbnb in 2008.

Spring break rental payoff: The full data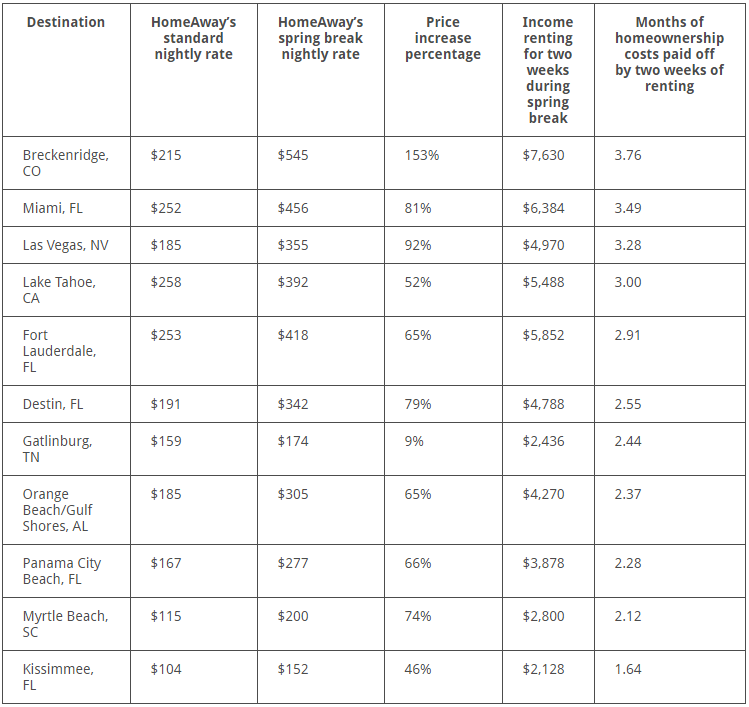 What to know before listing
Before you offer your home as a vacation rental, check your city's and neighborhood's ordinances on short-term rentals to ensure you don't break any rules.
Additionally, know that if you advertise on websites like HomeAway or Airbnb, you'll have to pay a fee that will eat slightly into your profits. Our analysis did not include these fees. Some vacation rental websites charge flat monthly or annual fees to advertise, while others charge a commission fee on each booking.
Methodology
We looked at projected spring break rental prices from HomeAway for a period of 14 days in March to calculate savings in HomeAway's top 11 spring break destinations. We then divided this by selected monthly ownership costs — a figure provided by the U.S. Census Bureau that includes mortgage payments, property tax and utilities — to calculate how many months of homeownership costs could be paid by renting out a home during spring break.
This article originally appeared on NerdWallet.